"By Severn shore we learn Navy's stern call:Faith, courage,
service true With honor over, honor over all. "
"it was the loneliest feeling in the world to be out over the Pacific, looking for your carrier. "
-Ens. R. D. Clark (VF-87)

Ens. Robert Clark, Robert Clark served as a naval aviator in the Pacific after enlisting in the U.S. Naval Reserves in October 1942. After undergoing training in night attack and combat tactics at Charlestown, RI, he reported for duty with the Pacific fleet in February 1945. He was assigned to the Fighter Squadron VF-87 based on the aircraft carrier the USS Ticonderoga. He was a pilot of the Grumman F6F-5N, or Hellcat. He saw duty in the Philippines, Guam, and the Sea of Japan. He was in Tokyo Bay on the day of the surrender and was among the first servicemen to go ashore in Tokyo. As a night fighter, Ens. Clark flew missions at night, taking off and returning to the carrier deck in total darkness. After his discharge Ens. Clark was a farmer and a banker in west central Illinois and devouted most of his time to his wife and their 8 children. Ens. Clark passed away in 1989. He once commented that it was "the loneliest feeling in the world to be out over the Pacific, looking for your carrier."

Ens. Jim Willard Tapp, Jim Tapp enlisted in the U.S. Naval Air Corps on October 7, 1942. Tapp was assigned to the Fighter Squadron VF-87 based on the USS Ticonderoga.He flew the Grumman F6F Hellcat, often at night through fog and foul weather conditions. Ens. Tapp, also an Assistant Flight Officer, flew numerous hazardous duty missions at the close of the war. He was awarded the Naval Air Medal with one gold star, the Asiatic Pacific Medal with two stars, the American Theater Medal, the Victory WWII Medal, and the Third Fleet Ribbon. He completed his Navy career in January 1946. After his discharge, Tapp returned to employment at Humble Oil and also remained in the Naval National Guard until Oct. 1959. His career ended with Exxon as a Senior Contract Negotiator at the Baytown, Texas refinery. He died of massive cardiac arrest on May 16, 1987, at the age of 68 and was survived by wife Marie Thyssen Tapp (a former W.A.V.E.), son Jim, and daughter Nancy Jo.Over the years, in virtually every endeavor, Jim Tapp etched his mark on people, places, and events.Tapp was a fast walkin, rough talkin fellow that few could forget.
Frederick Ernest Charles Jenkins, of South Yarmouth, a sales consultant to the petroleum industry, died Oct. 2, 2004 of complications from pulmonary fibrosis at Cape Cod Hospital in Hyannis. He was 85. Mr. Jenkins was born in Epsom, England, and grew up in Medford. He earned a bachelor's degree in chemical engineering from Tufts University, where his mother and father were employed for many years. In college he played basketball, his favorite sport, and upon graduating in 1941 he played on a semi-pro basketball team in Boston before joining the Navy. "He was a big man on campus in his day," said his daughter Maureen Vaughan, of St. Louis. During World War II, Mr. Jenkins served as a flight instructor and a pilot on the USS Ticonderoga. He was a member of the Bombing-Fighting Squadron 87 and flew the F6F Hellcats over the South Pacific. He was honorably discharged in 1945 as a lieutenant. "He really liked flying, but gave it up when the war ended," said his wife of 60 years, V. Maxine (Gawer).

Psychiatrist J.M. Stubblebine, a bay area psychiatrist died peacefully in his home at age 83 on Feb.18,2004, surrounded by family. While always rightly proud of his Naval service, it was his combat experiences in large part that influenced his decision to become a healer and a promoter for peace. Forced to interrupt his academic pursuits to defend his country, 'stub' entered the Naval Flight Cadet Corps in October of 1941, earning his Aviator's Wings and Ensign's commission in the autumn of 1942 In the newly formed Torpedo Squadron Eighty (VT-80), flying the TBM Avenger, and aboard the newly commissioned fast-carrier USS Ticonderoga (CV-14). 'stub' earned the Distinguished Flying Cross for heroism under fire for his decisive part in sinking a large enemy tanker off Qui Nhon, Indo-China on 12-January-45; just nine days before Ticonderoga suffered a crippling and harrowing kamikaze attack off the coast of Formosa. His own life was spared in that attack by things as ordinary as a piece of apple pie with a slice of cheddar cheese on top.
AMM2C Charles Head Jr - ARM3C A. Boyer Jr., Crew members of torpedo squadron 80(VT-80), participated in one of the first official missions of planes flying off USS Ticonderoga cv14 on 5 November 1944. During an air strike over Luzon Island in the Philippines, they were last seen bailing out while in a dive after being hit by AA enemy fire from a destroyer, off the coast near the city of Manila. They were declared missing in action

Ens. Eugene F. Loveland, Currently residing in Texas, Eugene was a member of VF-87 on the USS Ticonderoga CV-14. Ens. Loveland flew 32 missions against the enemy at Okinawa, Kyushu, Jura , Tokyo and Northern Honshu. During airgroup 87's attack of the battleship Hyuga, flying his F6F hellcat armed with machine guns, rockets and a 500 lb. bomb, Ens. Loveland successfully hit his target along with other members of his group which resulted in the sinking of the enemy's largest battleship and was awarded the navy's Distingushed Flying Cross. After the war Ens. Loveland worked in the oil industry and authored a book on his flying experiences while training and later in combat with VF-87and on the USS Ticonderoga. Ens. Loveland credits the navy for its "emphasis on discipline, responsibility, conduct, pride , teamwork and a truly rewarding experience. But his greatest blessing was having a wonderful wife, four sons and a daughter.
Willie T. Morgan, Lewisburg-Willie T. "Bill" Morgan, 81, died Sunday, Feb. 19, 2006, at 12:02 a.m. in the Veterans Medical Center, Salem, VA, following an extended illness. Born Feb. 3, 1925, at Ronceverte, he was the son of the late Harry T. and Ethel Mann Morgan.He was a Veteran of WWII, having joined the Navy in 1942. He attended the Ordinance School in Memphis, TN, and the Gunnery School in Miami, FL. He was assigned to Carrier Air Group 80 aboard the USS Ticonderoga, serving in the South Pacific, and earning six medals. After his ship was hit, he was sent to to the States in 1945 and received his discharge from the Navy Feb. 12, 1946. Mr. Morgan held membership in American Legion Post No. 26 in Ronceverte. He was retired from Virginia Electric and Power Service with 25 years of service. He was a Charter Member of the Ace Hunting Club formed in 1948. He was preceded in death by: his wife, Emma Lee Morgan in 1980; three brothers; and one sister. He is survived by: son, Barry T. Morgan of Fairmont; two daughters, Teresa L. Davis of Lewisburg, and Lisa J. Ervin of Frankford; two sisters, Hilda Jennings and Genevieve Doyle; eight grandchildren; seven great-grandchildren; and several nieces and nephews. Burial was in Salem Cemetery at Organ Cave.

Robert Mullaney, b.1920 - who was appointed the manager of the Lunar Excursion Module program in 1962, died on July 6 2003 at his home in Bellport, NY. A former Navy pilot, Mullaney worked to develop fighter planes for Grumman before and after his work on the LEM, eventually working on the F-14 Tomcat. Mullaney earned a Purple Heart while serving as a dive bomber on the USS Ticonderoga during World War II.
Gordon Anderson, Mr. Gordon Anderson, 79, of Kingston, New York, was a member of our air group 80 , Torpedo squadron VT-80 aboard the carrier USS Ticonderoga. Mr. Anderson trained for Aviation Radioman (ARM) before being assigned to the Big "T" and flew missions off the "T" in 1944-45 until after the 21 January Kamikaze attack after which Airgroup 80 transferred to the USS Hancock. He was awarded several medals and awards for his service in the Navy and was interviewed on March 30, 2004, by Elsie Saar, a volunteer at the Pittsfield branch of the National Archives and Records Administration.

Dick Coats Jr, VT-80 torpedo plane gunner Dick Coats Jr., served in the Navy Air Corps as a gunner on a torpedo plane assigned to the U.S.S. Ticonderoga until it was hit by two kamikaze planes in World War II. He served from Feb. 8, 1943 to Dec. 22, 1945. Coats and other servicemen were saluted on Veteran's Day November 11, 2008 which was celebrated in Tulsa with activities and a parade. Coats and crew members named their plane "Nancy Jane" after one guy's girl friend and Coats wife.

William Timmis, William Walter Timmis, age 87, died of natural causes Wednesday, October 4, 2005 at his home in North Port, Florida. Born in Washington, D.C in 1918, son of the late William Walter Timmis, Sr. and Eleanor Morgan Neely Timmis. Mr. Timmis was a graduate of the Friends Academy at Locust Valley, N.Y. and attended Swarthmore College. During World War II, he served in the Air Corps of the U.S. Navy, receiving early training at the Naval Base in Atlanta. While in Atlanta he met his first wife, the late Martha Blalock Timmis. Mr. Timmis was commissioned as an ensign on January 22, 1943, the same day he and Miss Blalock wed. He went overseas in January 1945 and flew 11 missions over Japan as a Helldiver pilot, based on the U.S.S. Ticonderoga. He received the Navy Cross for the sinking of the battleship Hyuga.Following the war the Timmis' resided in Atlanta, GA where he worked for Dravo Steel Corp. He was one of the organizers of the Atlanta Yacht Club. In 1959 the family relocated to Pittsburgh, PA. He later resided in Marietta, OH and Bristol, R.I. with his second wife Martha Cathy Timmis. Mr. Timmis was a member of the Bristol Yacht Club where he served as Commodore. Mr. and Mrs. Timmis retired to North Port, FL. Mr. Timmis is survived by his wife Cathy Timmis and three daughters from his first marriage: Courtney Porstman of Hockessin, DE, Mary Robb of Seattle, WA and Gail Morgan Timmis of Atlanta, GA as well as his adopted daughter Kelly Burke of Bristol, R.I. and Cathy Timmis' son Jack Bryans of Coventry, R.I. His sister, Mrs. Pat Bouton, also survives him. Mr. Timmis had 5 grandchildren, 3 great grandchildren, a niece and nephew. Donations may be made to the Alzheimers Association, SW Florida Chapter, P.O. Box 49470, Port Charlotte, FL 33949.
^ back to top ^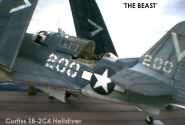 ---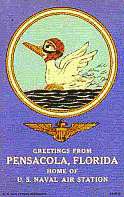 NAS Pensacola
- Naval Air Station -
---
"The Helldiver Driver's Song

"Oh Mother, dear mother,
take down the blue star.
Replace it with one that is gold.
"Your son is a Helldiver driver;
he'll never be 30 years old.

"The people who work for Curtiss
are frequently good and drunk.
"One day with an awful hangover, they designed and built an old clunk.

"The wings are built with precision, the fuselage so strong it won't fail.
"Who were the half-witted people
who designed the cockpit and tail?

"The skipper hates Helldiver drivers
he doesn't think much of that clunk.
"Each time we fly aboard his carrier,
he prays that his ship won't be sunk.

"My body lies over the ocean;
my body lies under the sea.
"My body lies under the ocean
wrapped up in an SB2C!"

Author: Anonymous