Home
Squadron Patches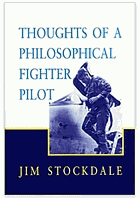 Vice Admiral
James B. Stockdale
The highest-ranking naval officer held during the Vietnam War, he was tortured fifteen times and put in leg irons for two years.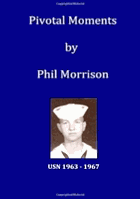 PIVOTAL MOMENTS
Phil Morrison VF-51
Phil Morrison in 1963, at 17 joins the Navy to be with his brother in Fighter Squadron VF-51.
The leader was Commander James Bond Stockdale. He was a P.O.W., and later earned the "Congressional Medal Of Honor". Stockdale and Morrison shared some unique experiences and a "Night in History" leading up to the escalation of the Vietnam war.
Contents

 
Underway off San Diego, California, after departing Naval Air Station, North Island, for her final Western Pacific deployment, 17 May 1972.
The "Cat Shot" of LT Shulte's A3D-2 Skywarrior.
Refueling from USS Ashtabula (AO-51), while operating off the coast of Vietnam, circa early 1966. Although seas were running very high, the ships completed replenishment and Ticonderoga received 175,000 gallons of black oil.

Journal to take notes with this picture
F-8E Crusader of VF-51 is launched from USS_Ticonderoga(CVA-14)in July 1965.
VF-53 F-8E 149187 on board the TICONDEROGA on 9-24-65. The folded wings show the yellow and black wing tip trim. The name LCDR C. B. BAILEY Is painted below the canopy rail on a yellow background.
A-4 "Skyhawk" landing on board, after a simulated strike on "enemy" forces during an operational readiness inspection, 18 January 1963. An A-3B "Sky Warrior" and F-3 "Demon" are parked on the carrier's after flight deck, and another A-3 is in the upper left distance, making its landing approach.
USS Ticonderoga CVA-14 underway 10 November, 1967.
CVA-14 A3D-2 of VAH-4 Det.B departing from USS Ticonderoga (August 1961)