CONTENTS
VF-80 Vipers Strike
Captain Kiefer recovering
TBM crewman rescued

Aerial combat related by then Lt. (jg) Richard L. Cormier, VF-80 member and former U-boat hunter:
Date of Combat: 12/14/1944

Vigan, the Phillippines -- Fighter Squadron 80 aboard USS Ticonderoga (CV-14) launched eight F6Fs on a sweep over Vigan, the Phillippines, on December 14, 1944.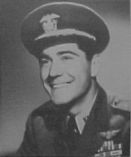 Richard 'Zeke' Cormier
Hellcats Defy Odds
VF-80 Vipers Strike
VF-80 from USS Ticonderoga engaged 28 Japanese fighters at 9,000 feet, and despite three-to-one odds, immediately attacked. "I was Pat Fleming's section leader with Johnny Fraifogl on my wing and Ensign Paul Beaudry protecting Pat's tail. We were in company with Lt. (jg) Bob Anderson's three deadeyes. The weather was clear with bellowing cumulus buildups. On Pat's command, we dropped our belly tanks, rechecked our guns and prepared to apply our skills. "Anderson's division took the group `in trail,' and we four tackled the leaders. I was truly surprised at how calmly I received this preparatory order. I had gone over this moment so often in my mind that the events seemed dreamlike. Then the adrenaline kicked in with a rush. "Fleming and I each took our wingmen in separate attacks, driving forward at full throttle. I picked the closest pair of Oscars and fired far out of range but got a lucky hit on the leader's port wing. He veered sharply left, leaving his wingman as dead meat. John Fraifogl and I chopped him up, and he went down under our guns. "Suddenly, the sky was filled with aircraft, some attempting to flee, others attacking, some still wondering `what the Shinto shrine' was going on. Our F6Fs sliced through the middle of this group, systematically adjusting the odds.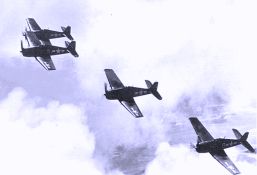 I quickly picked off a Zero with a long shot nearly head-on, which was a tad disquieting. There's no way to practice nose-to-nose gunnery-strictly on-the-job training! "John was forced to leave me to avoid being clobbered by one of our own, who had mistaken him for `Brand X.' Meanwhile, the dogfight continued. Fraifogl joined Anderson, and Johnny Rush flamed another Oscar and then evaded into the clouds. "Looking around, I spotted Fleming and Beaudry scissoring with two Oscars in tight formation, each pair seeking the advantage. My abrupt appearance from astern, with six M2 Brownings locked on, changed the situation instantaneously. However, my high closure speed put me in serious trouble. I continued firing, saw my tracers hitting both Oscars, and then flashed under the enemy leader. I expected to overrun them, staking myself right out in front of God and everybody. But the Japanese leader had no way of knowing I was close. He broke hard right, leaving his partner slightly in trail, which offered me a textbook position dead astern. The leader got away, but his wingman became number three on my hit parade. "I joined Fleming, taking a position wide abeam for mutual support. Glancing down, I spotted another Oscar several thousand feet below, paralleling our course. So I rolled in from my perch, but the Nakajima countered with a turn to meet me nose to nose. Several high-speed turns ensued, taking us down to the treetops in the mountains. But the Japanese pilot had selected a blind canyon and piled into a hill. That was my 'cost-effective' kill." The eight Hellcats regrouped and returned to "Tico" where claims amounted to 20 of the 28 bandits encountered. Pat Fleming, who also scored 4 kills that day, finished with 19 victories to tie Alex Vraciu and "Connie" Nooy as the Navy's number-four ace, but he transferred to the Air Force in 1947. Nine years later, then a colonel, Fleming died in the first B-52 crash. "Zeke" Cormier scored nine kills, commanded the Blue Angels and an air wing and died in 2001; he was among the most respected Naval aviators of his generation.
Captain Kiefer
Dixie recovering - promoted to Commodore
1945
While his carrier and crew made their way back to action , Captain Kiefer had recovered well enough to attend a ball game in Chicago. During the 21 January kamikaze attacks, for 12 hours Captain Kiefer, injured though he was, first directed the ship in the work of recovery and next refused medical attention until at midnight, he was assured that all injured men had received treatment and was informed it was mandatory for him to go to sick bay. Then the captain, wounded in 65 places walked to sick bay. Later, still smiling, he was raised up through a torpedo hatch for transfer to a hospital ship.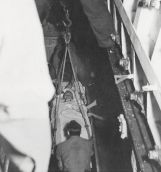 Recently, at a ceremony in Rockefeller Center, the skipper was promoted to the navy's honorary rank of Commodore. Captain (now Commodore) Kiefer, USN, of Kansas City, Missouri, is now serving as Commander, Naval Air Bases, First Naval District, with additional duty as Commander, Naval Air Station, Quonset Point, Rhode Island. A piece of music "TICONDEROGA" was written and dedicated to him by, MU2c Eddie Fritz Jr. in 1944. This musical tribute is both rare and meaningful.
Big "T" TBM Crewman Rescued
August 13, 1945
A USAAF OA-10A Catalina rescues a TBM Avenger crewman from the inner reaches of Tokyo Bay midway between Yokohama and Kizarazu, marking the first time that a US plane has accomplished a rescue in those waters. The crewman was assigned to Torpedo Squadron Eighty-Seven in the aircraft carrier USS Ticonderoga
---


CV-14 Home Page